Union leaders and activists made the following public remarks following last week's Unfair Labor Practice (ULP) job action by nurses and skilled service employees' authorization of additional strike against Hartford HealthCare (HHC):
"What happens next following our strike is up to the chains' executives and lawyers," said Windham Federation of Professional Nurses President Andrea Riley, RN. "They should do the right thing and come to the table committed to good-faith negotiations to resolve this crisis. Either way, we're reviewing our options and will be ready to take the next step together with our WCMH United Employees sisters and brothers," added Riley, a registered nurse in Windham Community Memorial Hospital (WCMH)'s emergency department (ED)."
Heather Howlett, CA, President of WCMH United Employees said, "I am unbelievably proud of my members who stood in solidarity with our nursing sisters and brothers on their strike line. The courage they have shown to authorize our own strike can be felt throughout the hospital. While we are hopeful a settlement can be reached, we are prepared to walk off the job if that's what it takes," added Howlett, a clinical assistant at WCMH.
"Our nurses are incredibly grateful to the community and elected leaders who came out to the strike line to show their support," said "strike captain" Pam Purcell, RN. "From bringing us food to donating heaters, and even standing out in the pouring rain with us. We heard you. Now let's hope HHC hears you as well," added Purcell, a registered nurse in the ED.
"Leaders with both unions have been working tirelessly to bargain in good-faith with representatives from Hartford HealthCare," said Crystal Badeau, PCT, Vice President of WCMH United Employees. "Yet time and time again we are offered proposals that just do not cut it. The ourpouring of support from our community has affirmed that we are doing the right thing," added Badeau, a patient care technician in WCMH's Shea East unit.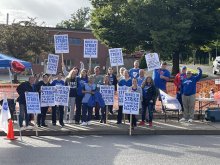 # # # 
The Windham Hospital Federation of Professional Nurses, AFT Local 5041, represents approximately 100 registered nurses at the Hartford HealthCare (HHC)-owned Windham Community Memorial Hospital (WCMH) in Windham and its partner facilities. WCMH United Employees, AFT Local 5099, represents approximately 200 allied health, technical, environmental services, dietary, plant operations, registration and financial services professionals at the main campus and satellite offices. Together, the local unions are a leading force for assuring quality, affordable care for their community and demanding a health system for the nation that puts patients before profits. 
For Release: 
September 26, 2021
Contact: 
Rosemary Picarelli, AFT CT - 860/989-5641,
rpicarelli@aftct.org